About Sherry Anne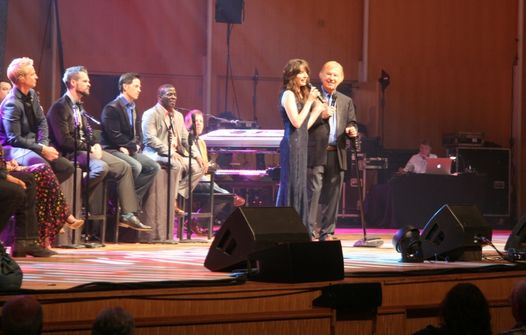 Inspirational Singer, Speaker, Writer. . .
Sherry Anne was born with a bilateral hearing and speech impairment.
Challenged with this and other obstacles early in life, she pursued and achieved beauty pageant crowns, athletic awards, academic scholarships, and became a Doctor of Chiropractic. Yet, Sherry Anne still had a longing - an emptiness - that only the love of her Heavenly Father could fill, and He did!  Today, her ministry encompasses music and inspirational speaking, bringing the message of God's unconditional love, mercy, and saving grace to diverse audiences.
An effective communicator, Sherry Anne blends the influence of traditional and contemporary music styles as she shares her personal story of overcoming adversity and finding victory through Christ. She is a featured guest for women's and singles' conferences, concerts and other venues across the U.S., Canada, and Mexico. A few of the artists she has appeared with include: Bill Gaither and the Gaither Vocal Band, Jason Crabb, Sidewalk Prophets, Restless Heart, Sarah Groves, Gordon Mote, The Martins, The Hoppers, The Collingsworth Family, The Booth Brothers, Triumphant Quartet and many others. 
National Stage Appearances:  
Landmark Theatre, Kleinhans Music Hall and Chapel at Crosspoint (with Bill Gaither & GVB)
National Quartet Convention Main Stage
Dollywood 
Silver Dollar City    
The Ark Encounter         
Gaither's Family Fest
Singing in the Sun 
Singspiration Christian Cruise
Thomas Road Christian Church       
Helen Keller Festival
Songfest
Honors:
•  #5 Billboard Music Video Chart debut: Sherry Anne LIVE! DVD, 2018
• Top 50 Christian /Gospel Album Release: STAND 2021
•  Featured in Hearing Life Magazine, 2021
•  Four-time Singing News Fan Awards Top 10 Favorite New Artist, 2016-2018, 2020
•  Singing News Songwriters Search - Grand Prize  - "You Came," 2017
•  Main Stage Artist, National Quartet Convention, 2013 
•  Observer-Dispatch Accent of Excellence Award, 2009
Radio:
•  Singing News National Southern Gospel Top 80 Chart:
   "Who Do You Say I Am"  (Sherry Anne co-wrote) 
    "Singing This Song To You" (Sherry Anne co-wrote)
    "You Came" (Sherry Anne co-wrote)
   "To Be Forgiven" 
•  Southern Gospel Times Top 40: "I Know My God Cares for Me" 
•  SGN Scoops Digital Top 100: "I Know My God Cares for Me" 
Television:            
100 Huntley Street         
TBN
Nite Line        
Down Home Gospel 
Babbie's House     
Friends & Neighbors     
Club 36       
Homekeepers
Bay Focus
Good Life
Feed the Children with Lynda Randle 
Music video on Daystar's Nashville Country Revival       
Film:
Clancy          
The Perfect Gift
Social Media:
Featured guest on Jesus Calling: Peace For Everyday Life Series, 2021        
Over 2 million total video views on Facebook and YouTube combined, 2022
Discography:
                   • Stand (produced by Toni Jolene Clay)
                   • Storytime with Sherry Anne (produced by Sherry Anne)
                    • Sherry Anne LIVE! DVD (produced by Dr. Steve Allen & Brian Ledford)
                    • Sherry Anne LIVE! CD (produced by Dr. Steve Allen & Brain Ledford)
                    • Reflections: Songs Through the Years:  (produced by George Hairr)
                    • Merry Christmas with Love (produced by William "Tony" Griffith )
                    • A Closer Walk  (produced by Nick Bruno)
                    • Keep On Prayin'  (produced by Gordon Mote)           
                    • Thank You  (produced by Woody Wright)
  "Anybody from the music field knows this: to sing you have to be able to hear, and how this young girl does this, I do not know. She has a terrific voice" - Bill Gaither, Songwriter of the Century, Grammy and Dove Award Winner.
". . . trusted, totally dedicated to excellence in ministry and in her resolve to live life worthy of the calling with which she has been called" — Pastor/author Gary Allen VanRiper, Camden Wesleyan Church, Camden, NY
      "What a wonderful spirit, testimony, and talent" — Pastor Steve Qualls, Christpoint Church, Sparta, TN
"Whatever you do, do all to the glory of God"
­— 1 Cor 10:31 
Download full one-page bio below: